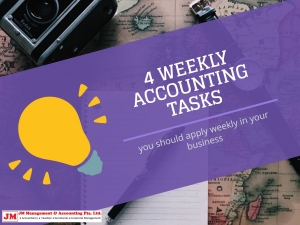 A growing business should have up to date financial accounting records, such as bookkeeping, invoice preparation, and balance sheet. Most companies, including the well-established, have failed due to lacking order in their financial books. Small business entrepreneurs are not left out; they are also prone to be disorganized, resulting in errors in the financial department. It's vital to utilize the available Accounting services Singapore to stay smart when dealing with your business's cash flows. This article gives the four main accounting tasks you should apply weekly. Let's see.
Weekly accounting tasks
Track your bank account's transactions
Tracking your cash inflow and outflow in the bank account is very important. You need to keep a record of receipts for future reference in case of any troubles. Most business owners get themselves in the last minute trap. They never bother checking their bank transactions plus no receipts for proof until errors arise. They may not find a solution and, hence, undergo a loss. For this reason, you should confirm your bank account every week to check your money's progress. It'd even be better if you did that daily.
Evaluate dealer payment
It's mainly a problem experienced by small business owners. They take too long without sorting their dealers. Consequently, they realize days after the due date, forcing them to pay unnecessary interest, which they'd have avoided by reviewing the payment weekly. Doing this may spoil your company's reputation, as most dealers will go spreading rumors of how bad you are at making payments.
Do you know how bad such a reputation will cost your business out there? You may end up losing employees or even clients who'll lose trust. You should, therefore, learn to sort their invoices earlier enough to avoid extension past the deadline. You can try weekly for better remembrance. It helps prevent more unnecessary expenses, yet you've other liabilities in your business. It's recommended that you obtain an accounting firm for offering your business with secretarial services Singapore for the betterment of your success.
Immediate sending of customer invoices
No customer tolerates delays. For instance, if a customer pays a bill and you let them receive an invoice past the agreed date. Don't you think it's unfair for them? How do they trust you next time when you fail to deliver services as claimed? Such cases may give them an excuse for failing to make payment in a reasonable time as the predefined date. You'll be forced to make follow up to have the bill paid. To avoid inconveniences, it'd be best if you deliver invoices as agreed. Make your customers happy by making weekly updates, if not daily. Furthermore, remember to appreciate a customer after receiving the records in good time.
Weekly transactions' filing
Your business profit maximization can be achieved through leveraging your tax write off which could be prepare by corporate tax services. However, it may be difficult, especially in the presence of poor filing habits and wrong documentation. Establish an appropriate filing system for storing information on invoices, receipts, expenses, and cash inflows. Additionally, you can have a separate file for vendors. Keep weekly records of interest payments, auto-debit, and bank fees. Sometimes, bookkeepers should record this information following bank reconciliation for a smooth running of the process.
You can as well hire a bookkeeping team or an accountant company for proper management of your financial books. you've no limits at all. Doing it yourself may be a great way of saving money, but you have a lot to do. Think about other business duties in the office. How will they run, more so, instances where you have a lot of work? You may also be having employees without a competent knowledge of accounting software. Can you imagine how much time they'll waste trying to keep the numbers, right? That's why you need to hire an accounting team with professions to sort your accounts, bringing all books up to date as you save time on accomplishing other office duties. Are you in need of accounting services? Well, we at JM Management & Accounting, have famous experts in accounting and bookkeeping. Call us today for more information.
The bottom line
What crossed your mind on your business's first company incorporation date? Did you think about your business accounting and financial management? Most enterprises are kept on toes by the way they run their finances. Consequently, you can tell if you're on the right track to efficiency or not. Having gone through the above points, you now know the main accounting tasks you should perform weekly to avoid going astray.