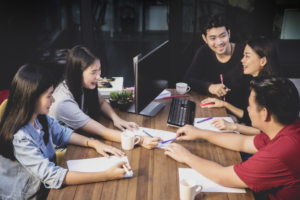 Have you been thinking about setting up your business in the Singaporean market?  If yes, then to introduce your company in the big market of Singapore and to achieve your sales growth, having a professional and competent team plays an important role.  To help you a bit, you can even take the guidance of incorporation based services firms in the Singapore.  To build a strong and pleasant environment of working, choosing a competent team is a lot important. Right here we are sharing a few important tips with you about hiring competent people for creating a better team:
Tip No 1: Including Company Culture in Hiring Strategy
Every single company has its values.  All the team members should be upholding their values whether it is explicitly or even subtly. Being a leader, you should adopt the system of laissez-faire based approach and hence disregard your company incorporation culture. You can even entrench it into your basic hiring strategy. This will bring a collaborative nature in the team and better results will be delivered.
Tip No 2: Creating Detailed Description of Job
When it comes to the process of hiring, job description plays an important role.  If you are not sure in your mindset about what you want your team to deliver, how can you expect that your employees can perform their tasks brilliantly? To deal with this whole scenario, you can seek enough consultation from accounting services in Singapore.
Tip No 3: Working with the team collaboratively
If in case you already have started the base and you have a start-up team in the Singapore, yet still you are thinking to hire some new members, then it is needed to hence involve your old employees as well. This will let your old employees get a feeling of how important and valuable they are for you.
You can pick senior employees from different secretarial services departments. This is for the reason that they are completely aware of their job scopes.  They do know how to easily identify competent workers in the shortlisted ones.  At the time of the hiring process, you should allow all the candidates to simply interact with your whole team on both the formal and informal terms.
Tip No 4: Never Rush
Most of the members of the team are performing different roles and possibly you will be pressurized to hire some more workers for the team.  But in the middle of this whole scenario, you should never rush to any final results.  Think briefly before coming to any crucial decision.  As much time you will be taking, the more it will help you to fill the main gaps within the team.
Tip No 5: Testing Accurate Skills
The last most important tip is about testing the right and accurate skills of corporate tax services.  You should just be picking those candidates whom you think have the right and best skills to meet your objectives.  Getting in touch with consultation firms in Singapore can help you a lot to make the whole process easy and effortless for yourself.