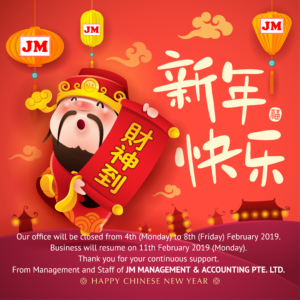 Our Value Clients,
We would like to announce that our office will be closed from 4th February 2019 (Monday) to 8th February 2019 (Friday) for Lunar New Year Celebration.
Our business will resume on 11th February 2019 (Monday).
We apologise for the inconvenienced caused.
For any enquiries, please visit our website via clicking here or message us at our contact page, we will respond as soon as we are back.
With this, our Management & Staff of JM's Group wishes all a Prosperous and Wonderful Chinese New Year!
May your journey be always filled with wealth, good health and success through the year ahead!
JM Management & Accounting Pte. Ltd.
JM Corporate Consultancy Pte. Ltd.
ARC Accounting Pte. Ltd.