In this modern world, it's challenging to survive on bungling support, and as a result, most intellectual business owners are highly determined to ensure that they uses the most preeminent services. Accounting work requires enormous time to make sure that every data is right and accurate. Aside from that, accounting requirements and regulations being imposed by ACRA or "Accounting and Corporate Regulatory Authority" are complex and consumes great amount of time. Most of them chose outsource the work since this aid them reduce consumed time and save it from nonessential activities. They are being freed from shackles of accounts and simultaneously aid you increasing companies' profitability at the end.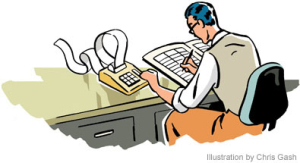 People under this department spend more time "drafting and redrafting" business account books. This is a very strenuous work that test patience. In addition, checking every transaction can also guzzle time, which leads to irritation and exhaustion. Business owners understand that accounting is a no child's play task and requires remarkable amount of accuracy and expertise to make sure that every financial documents and needs are being addressed faultlessly. Maintaining accounts is certainly one of the most tiresome route, wherein more effort are spent to "calculate and recalculate" transactions.
However, this whole monotonous process can't even be disregarded as maintaining daily and truthful hardcopy of financial transaction, since this aid in determining business financial standing. In addition, this process further aids in determining the graph of their loss or profit. Since accounting is essential in all business and organizational transactions, having dependable, knowledgeable and experienced individual that can handle task with great expertise is vital. In view of this, outsourcing accounting work is the best solution. Accounting Services Singapore can address your accounting dilemma and queries with great adeptness.
This process guarantee better superiority of service, since firms that handles the task thoroughly focuses on the accounting work you need. Majority of big business houses or accounting firms outsources several accounts relates tasks like generation accounts, invoice generation, profit and loss account, trial balances, financial statements, credit card checking accounts and more.
Accounting Services Singapore is highly beneficial in saving money since you no longer need to waste time, effort and money in hiring proper staff which will manage accounting task. They deeply understand your need of getting things complete at faster speed without having the quality and accuracy suffer. They are "blessing in disguise" for those businesses that cant able to handle and manage their accounting work.
In addition, you can also monitor every work done by simply outsourcing helpers such as secretarial services, corporate income tax handlers and company incorporation service provider. Actually Accounting Services Singapore can provide all above mentioned services. They hold professional individuals who specialized in every task to guarantee smooth flowing of work.
With regards to corporate income tax, this also requires meticulous mind. Those individuals who do not have enough expertise in handling such work commonly get tensed and cant able to deliver work on time. Paying corporate tax on time prevent any legalities in the near future that can become a hindrance on your business transactions.
With Accounting Services Singapore, you no longer need to be over burdened by these accounting concerns, since this will be handled by professional and skilled individuals who are highly trained, you will be assured to all accounting needs will be delivered with great accuracy and on timely fashion.
You may also like our other updates:
A Certified Public Accountant was Sentence for a Six Weeks' imprisonment for Tax Evasion;
Auditor-General finds 'major lapses' in Workers' Party-run town council accounts;
Or others