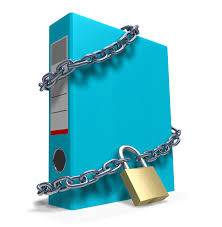 How to Secure Sensitive hardcopy Files and/or Documents in your company
When it comes to measuring the most valuable thing on your corporate computer or network, the answer is your data. The networking and saved data in your computer is probably the most sensitive and critical thing that you must keep safe in order to tackle any difficulty that comes in your corporate goals. If your sensitive data go in the wrong hand, the consequences will be harsh for your company or your business. Any kind of exposure or leakage of your personal social security number, debit/credit card, and the bank account information could even subject you to the pretty bad identity theft. The Company's critical documents often contain secrets related to trade, the substantial amount of personal information regarding employees and the clients and also the data of the organisation's financial records. It is all in there, so what can you do to protect it? Let me guide you through it.
Consistently back up your data
Backing up all of your data consistently on the secure servers can help you secure your critical data in a managed way corporate strategic planning services can help you get the right cloud services provider for your business. The accounting services Singapore are held by the famous and well-established JM Management Company that has a history of helping the individuals to run their business successfully and securely in a professional way.
Share-level securities
You have to be very careful about who you are sharing your critical data with, is it your assistant manager? Is it an employee? Whoever it is, you have to put a maximum security lock on it. So only those people can open and access it anytime, who you trust. If others want to access your sensitive data, let them access for just a specific amount of time and under your supervision or under someone you trust with your corporate accounting services.
Use disk encryption
Encryption of your hard disk drives are very necessary, you must encrypt all your hard drives' critical data as soon as possible. Many of the qualified and experienced secretarial services Singapore can assist you to encrypt your whole data in a very strategic way so no one can decrypt it easily ever after.
Making use of the public key infrastructure
The well designed (PKI) public key infrastructure is the system for managing all of the public and private digital certificates and key pairs. Because these keys and e-certificates are issued by a well-established third party, (the payroll services firm can assist you with developing these certificates) because the certificate-based securities are stronger.
The point is you can easily protect data if you want to share it with someone other by simply encrypting it with the secure public key that is designed with its allowed intended recipient. The person who will be able to open or disclose the data will be the holder of the secure private key that will be provided to him after a secure procedure. The Accounting services Singapore can assist with the designing process of this security system for your company.
IP security and secure wireless connections are necessary
You need to control all of your online connections and transactions in a very safe way. Be aware of the CEO frauds and scammers online so no one can access your secure data in any way.