In the current scenario of the Coronavirus epidemic with the global outbreak, almost all the countries have been severely affected by this virus. It has completely closed down the domestic and professional lifestyle of the people at all mediums. World Health Organization has been instructing the world to keep yourself at a social distance while working in the company incorporation or different workplaces.
There are a few important tips that you are required to keep in mind when it comes to workplace safety and protection.  Here we have discussed some major guidelines with you:
You should be sitting at a distance of around 1 meter from your employees. You should avoid all sorts of verbal communication or physical touch with them as much as possible. This virus can only transfer from one body to another through physical touch;
You can handle all your meetings and conferences through video calling and signing documents in digitalising. Hence you can also perform your secretarial services or Annual general meetings on the video call conversation and signing the statutory documents in digitalising for the process. There is no need to travel from one place to another for a small meeting.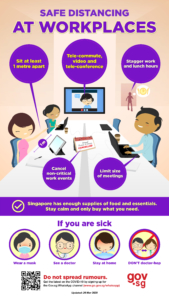 No matter even if you are not feeling sick, still it is important to wear face masks, cover your hands, wash your hands from sanitizer for at least 20 seconds and stay at home as much as you can. Almost all the sectors include office work such as accounting services in Singapore are letting their employees handle their tasks from home.  This is so much important for your health safety.
Follow the guidelines carefully!